News & Articles
Making FAIR Data a Reality - Recording and Slides from a LIBER Webinar on the work of the European Commission's FAIR Data Expert Group
Simon Hodson, Executive Director of CODATA and chair of the European Commission's FAIR Data Expert Group and Sarah Jones, Associate Director at the Digital Curation Centre and Rapporteur of the Expert Group given a webinar earlier this week.

The webinar was organised by LIBER's Research Data Management Working Group and took place on 23 April at 12:00 UTC.  

 

 

The webinar allowed the Expert Group to give an update on progress and the forthcoming report and Action Plan on 'Making FAIR Data a reality'.

 

The FAIR Data Expert Group was convened in March 2017 with a remit to propose recommendations and indicators on what needs to be done to turn FAIR data into reality. The Group was extended in 2018 to develop the FAIR Data Action Plan. This should guide the implementation of the EOSC but also address broader concerns on an EU, member state and international level. The Group's Plan should act as a rubric for more context-specific FAIR Data Action Plans to be developed at member state and disciplinary level.

The interim report of the Group is due in June 2018 and will be launched at the EOSC Summit in Brussels. The report addresses the changes needed to research culture, infrastructure, skills, metrics and costs to support the transition to FAIR. Details of the main discussion points in the report and preliminary recommendations will be shared on the webinar.The launch of the interim report on 11th June will be followed by a workshop where stakeholders are invited to reflect on the content of the Action Plan and brainstorm how this could be progressed further in specific national or disciplinary contexts. The consultation period will continue over Summer with the final report being launched at the Austrian Presidency event in November.



Presentations from the Göttingen-CODATA RDM Symposium Now Available
The organisers and hosts are pleased to announce that the presentations from the Göttingen-CODATA RDM Symposium 'the critical role of university RDM infrastructure in transforming data to knowledge' are now almost all available from the

conference management system

 (click through to each session) and the

CODATA website

.

 

Göttingen-CODATA RDM Symposium 2018

The symposium was held in Göttingen from 18-20 March 2018.  It was a collaboration between the University of Göttingen and CODATA and was a precursor event to the RDA plenary meeting in Berlin on 21-23 March 2018.
The event was attended by 160 research data management experts and professionals from around the globe.  
The event was possible thanks to the generous support of the University of Göttingen and the hard work of the programme committee and the local organisers.




Call for papers and posters, SciDataCon 2018, part of International Data Week: deadline 31 May
The deadline to submit abstracts for papers and poster for SciDataCon 2018, part of International Data Week, 4-8 November, Gaborone, Botswana is 31 May.

 

Following some necessary improvements to the conference management system the Programme Committee has decided to extend the deadline for abstracts to 31 May.

 

 

 

 

 

Subtitle: Call for Papers

 

In some cases, session organisers will be inviting proposals, but please note that you may submit a proposal to any accepted session if you think your proposal is a good fit with that session topic. 

 

 

 

Abstracts submitted to specific sessions will be reviewed for their individual quality and according to their appropriateness for that session. Abstracts submitted to the General Submission option will be reviewed for individual quality and, if accepted, will be assigned to an accepted session or grouped into thematic sessions.

 

Accepted abstracts will be available from the conference website and will form a persistent collection, so please consider the following recommendations carefully:
Please submit your proposal of a length appropriate to the intervention. For example, we recommend that the proposal for a research paper should be 800-1600 words and for a practice paper 600-1000 words.  For lightning talks or panel interventions 300-600 words is sufficient.  These are guides and please use your judgement.  We strongly discourage proposals of more than 1600 words.
Submission must include a summary.  The summary should be brief - 100-250 words, and certainly no more than 250 words.
 

Call for Posters

Posters will be an important feature of SciDataCon 2018. The organisers will endeavour to ensure that all poster presenters have an opportunity to give a lightning talk as well as participating in the poster reception.  Posters can often be a more effective way of communicating key technical features of a paper and providing a visual summary that really engages the viewer.

 

 

 

For a Poster Abstract we suggest 800-1600 words and no more than 1600 words in length. 

Submission must include a summary.  The summary should be brief - 100-250 words, and certainly no more than 250 words.

Please describe the subject of the proposed poster in as much detail as possible. Describe the structure of the poster. Above all, let us know:

 
why will this be an interesting feature of the conference?
why is it particularly suited to a poster and/or demo session?
why the poster or demo will catch delegates' attention and why will they stop and listen to you? 



Call for Nominations for CODATA Officers (President and Vice-President(s)) and Executive Committee Members: Deadline 27 April 2018
The deadline for nominations for Elections to the CODATA Executive Committee is approaching: Friday 27 April
Call for Nominations for CODATA Officers (President and Vice-President(s)) and Executive Committee Members: Deadline 27 April 2018

Help CODATA deliver on its strategy to mobilise the data revolution for research!

CODATA Members (National, Union, Co-Opted and Affiliate Members) as well as Task Groups are invited to nominate candidates for the following positions:
President (to serve 2018-22)
Vice-President (1-2 positions, to serve 2018-22)
Ordinary Member (8 positions, to serve 2018-20)
Nominations will be considered for election at the 31st CODATA General Assembly, which will take place on 9-10 November 2018 in Gaborone, Botswana, following International Data Week 2018.

Please find attached a letter from CODATA Past President, Professor GUO Huadong, inviting nominations.

Nominations should be submitted by CODATA Members and Task Groups on the form attached, to the Nominating Committee, c/o simon@codata.org, by the deadline of 27 April 2018.

The most important criteria for nomination is to be able to contribute strongly to the delivery of CODATA's strategy and strong record of delivery as attested in the CODATA Prospectus of Strategy and Achievement 2015-2017. The covering note to the nomination form and the procedure document explain terms of eligibility.

 
About CODATA
CODATA exists to promote global collaboration to improve the availability and usability of data for all areas of research. CODATA supports the principle that data produced by research and susceptible to be used for research should be as open as possible a

nd as closed as necessary. CODATA works also to advance the interoperability and the usability of such data: research data should be intelligently open or FAIR. By promoting the policy, technological and cultural changes that are essential to make research data more widely available and more usable, CODATA helps advance ICSU's mission of strengthening international science for the benefit of society.

The updated CODATA Strategic Plan 2015 and Prospectus of Strategy and Achievement 2015-2017 identify three priority areas:
promoting principles, policies and practices for Open Data and Open Science;
advancing the frontiers of data science;
building capacity for Open Science by improving data skills and the functions of national science systems needed to support open data.
CODATA achieves these objectives through a number of standing committees and strategic executive led initiatives, and through its Task Groups and Working Groups. CODATA supports the Data Science Journal and collaborates on major data conferences like SciDataCon and International Data Week.

 
Timescales
Timescales back from 2018 General Assembly, Gaborone, Botswana

General Assembly

9-10 November 2018

Deadline for Final Slate

5 October 2018

Deadline for Additional Candidates

28 September 2018

Deadline for Provisional List

11 May 2018

Deadline for nominations

27 April 2018

Call for nominations

26 October 2017



Applications Invited to Participate in the CODATA-RDA Research Data Science Summer School and Advanced Workshops, Trieste, Italy 2018 - Deadline 21 May 2018

The CODATA-RDA Research Data Science Summer School and Research Data Science

Advanced Workshops will run for their third and second year respectively at the International Centre for Theoretical Physics, Trieste, Italy.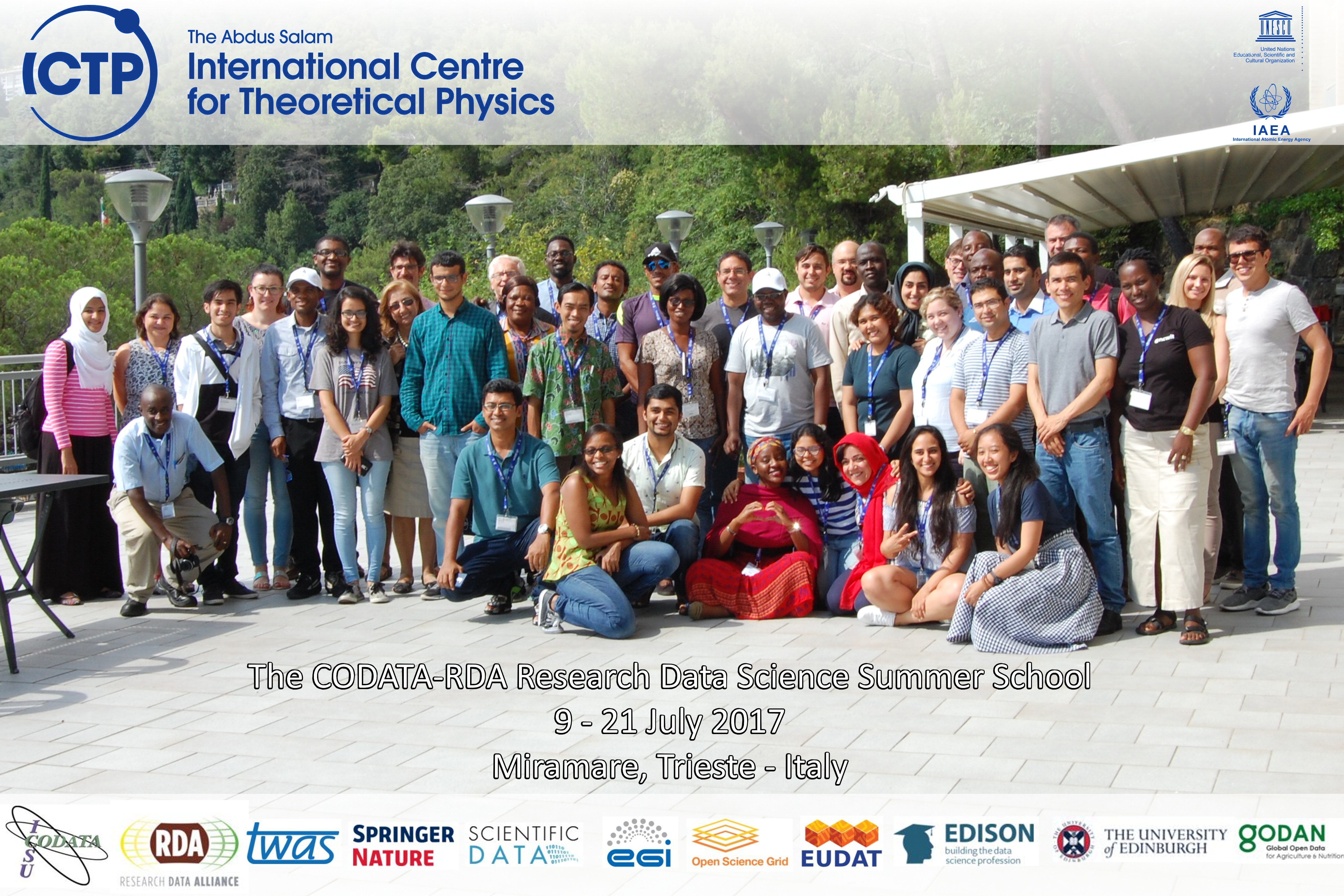 The CODATA-RDA Research Data Science Summer School will take place on 6-17 August 2018.  Apply here!  

Deadline 21/05/2018

 

The CODATA-RDA Research Data Science Advanced Workshops this year cover the following topics:
Bio-informatics
Climate Data Sciences
Extreme Sources of Data 
Internet of Things (IoT)/Big-Data Analytics
The Advanced Workshops will take place on 20-24 August 2018.  Apply here! 

Deadline 21/05/2018

About the CODATA-RDA Research Data Science Summer School, 6-17 August 2018

The CODATA-RDA Research Data Science Summer School provides training in the foundational skills of Research Data Science.  Contemporary research – particularly when addressing the most significant, transdisciplinary research challenges – cannot be done effectively without a range of skills relating to data. This includes the principles and practice of Open Science and research data management and curation, the use of a range of data platforms and infrastructures, large scale analysis, statistics, visualisation and modelling techniques, software development and annotation and more. We define 'Research Data Science' as the ensemble of these skills.

 

Find out more about the schools

here

 where you will find links to information about past schools in 2016 and 2017 held in Trieste and São Paulo.  Watch a video about the Schools of Research Data Science

here

 

The School of Research Data Science has enjoyed a remarkable success and clearly responds to a burning need for data skills among Early Career Researchers and others involved in the research process, internationally.  In 2018, building on our partnership with ICTP and the support of our sponsors and partners we will convene Data Schools in:

 

Brisbane, Australia, June.

Trieste, Italy, 6-17 August

Kigali, Rwanda, 22 Oct-2 Nov

São Paulo, Brazil, 3-14 Dec

 

About the CODATA-RDA Research Data Science Advanced Workshops, 20-24 August 2018

Four advanced and thematic workshops on Research Data Science will run in parallel.
Workshop on Extreme sources of data: Introduction to CERN LHC and ATLAS Experiment. Hands-on sessions will include python coding and tutorials on using the ATLAS Open Data Platforms/Tools.
Workshop on Bioinformatics: Advanced hands-on-tutorials on computational methods for the management and analysis of genomic and sequencing data.
Workshop on IoT/Big Data Analytics: Topics will include Big Data tools and technology; real time event processing; low latency query; analyzing social media and customer sentiment. Hands-on sessions will include deploying and using Big-Data Analytic tools and platforms including Hadoop, Apache Kafka and HDF 
Workshop on Climate Data Science: Cloud computing platform/ tools for Climate Data Sciences including integration and visualization of on-line and local datasets. Hands- on sessions will focus on using on-line high performance platforms and tools for Climate Data Science.
 

Information for Applicants

There is no registration fee for these events.  Some support for travel and accommodation is available and its allocation will be determined during the selection process.  Much of this funding is intended for participants from lower and middle income countries.  Potential participants have the opportunity to indicate they need support in the application.  Self-funded participants are welcome.  All applicants are strongly encouraged to look for alternative 'third-party' sources of funding to support their participation.  

 

The CODATA-RDA Research Data Science Summer School is open to participants in any research discipline.  The data skills taught are also useful for (data) librarians and other research support staff, such as those who envisage a career as data steward or data analysts.  Furthermore, people who are more advanced in their careers who would like to improve their data skills as a form of continuing professional development are also eligible.

 

Participants will be selected on merit from a very competitive field.  Applicants are urged therefore to ensure they pay careful and full attention to the requirements of the application process.  

 

Selected participants for the Research Data Science Summer School will have a baseline of data skills and these will have been tested by an online form.  Applicants to the Advanced Workshops should demonstrate their capacity and skills to engage with these themes on a more advanced level.

 

Applicants to either event should pay particular attention to their personal statement and communicate persuasively their reasons for wishing to attend the Summer School and/or Advanced Workshops: how do they intend to use these skills and experiences, how will participation in the Summer School and/or Advanced Workshops benefit their research or the institution in which they work?  Finally, candidates should take pains to ensure that their application is well supported by references from their past or present tutors or line managers.  This is particularly important so that the directors and organisers of these events have confidence in the candidate and that the skills learnt will have the maximum benefit and impact.